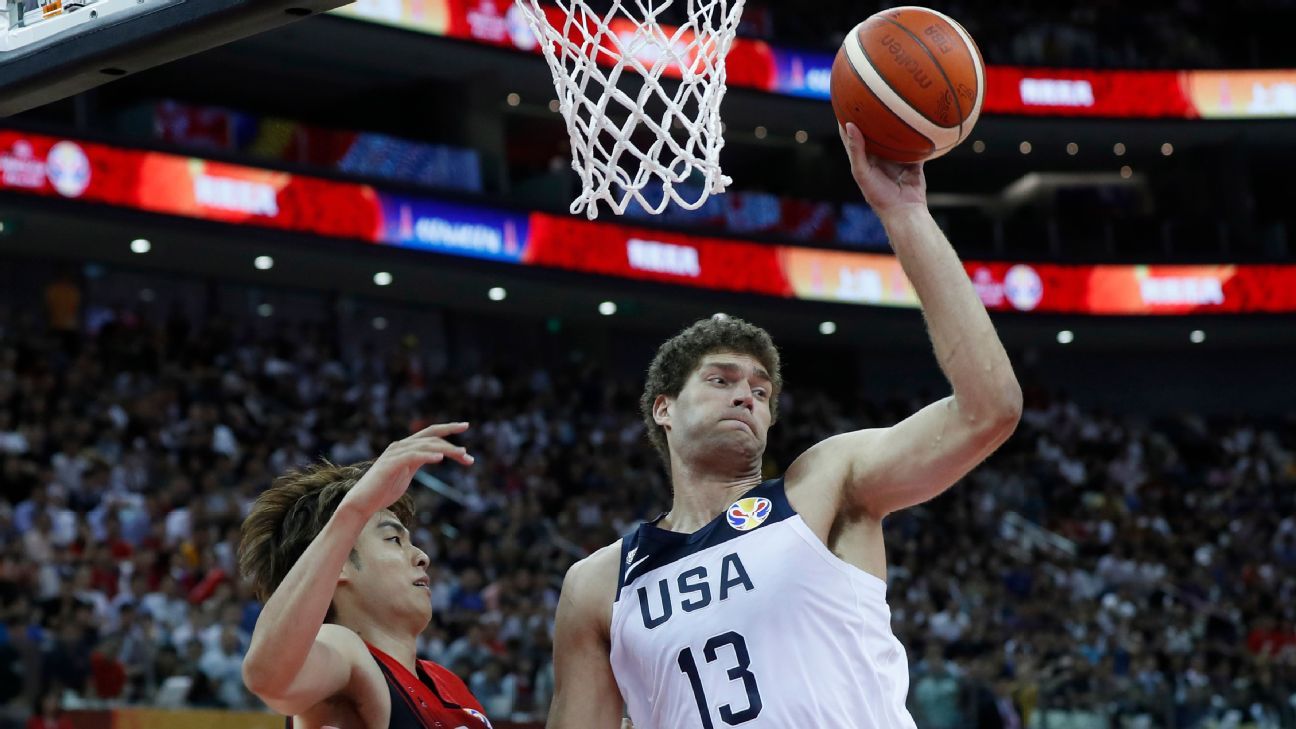 SHANGHAI — As expected, Team USA routed Japan in its final pool-play game of the FIBA World Cup on Thursday and set up one of the most anticipated matchups of the tournament.
That will come Saturday when the Americans relocate to Shenzhen, China, for the first game of the second round, which is against Greece and reigning NBA Most Valuable Player Giannis Antetokounmpo.
"He's going to come out to kill us, there's no question," said Team USA center Brook Lopez, Antetokounmpo's Milwaukee Bucks teammate. "He's going to want to tear our heads off. I wouldn't expect anything otherwise."
Playing an overmatched Japan team that had already been eliminated, Team USA got up 11-0 out of the gate and cruised to a 98-45 win. It was a much cleaner performance than the oil-leaking showing Tuesday, when Team USA barely survived in an overtime victory over Turkey.
The offense moved much smoother, especially against zone defense. Turkey knocked the Americans off balance with its zone and Japan played zone most of the game as is its style. The ball movement and player rotations were much improved, leading to 14 3-pointers as the Japanese just didn't have the personnel that Turkey did.
It was a breakout performance for Jaylen Brown, who finished with 20 points, seven rebounds and delighted the Chinese crowd with several vicious dunks. Brown's role expanded with Boston Celtics teammate Jayson Tatum out with an ankle injury, and he delivered his best game of the summer in a potentially important development.
Kemba Walker put up 15 points and Harrison Barnes 14 as the U.S. had its best offensive game thus far. About 200 miles away in Nanjing, China, Antetokounmpo played his best game of the World Cup as he scored 24 points with 10 rebounds and six assists to help Greece past New Zealand to advance to the second round.
The Americans are now also slated to play Brazil in the second round; that game will be next Monday. The U.S. will be the top seed in its second-round pod, as it comes in with a +75 point differential in three games, a key tiebreaker in advancing to the knockout stage next week.
Team USA hasn't faced Greece, the No. 8-ranked team in the world, in major competition since the 2008 Olympics in Beijing. Greece was the last team to beat the Americans in the World Cup or Olympics, dating to the 2006 World Cup semifinals in Japan. That winning streak has now reached 45 games.
"We understand he's a great player and he's the MVP, but it's not just him on that team," said Donovan Mitchell, who had 10 points Thursday. "But we'll be listening to [Bucks teammates] Khris [Middleton] and Brook [Lopez]."
Not since perhaps 1988 has Team USA not had the biggest star in a major international tournament. Back then, before NBA players were permitted to play in the World Cup or Olympics, Brazil's Oscar Schmidt averaged 43.2 points in the Seoul Games. Ever since, America has always boasted the best roster and, usually, the top several players.
This year, that isn't the case. In addition to Antetokounmpo with Greece, fellow First Team All-NBA selection Nikola Jokic looms as a possible opponent with Serbia.
Before Thursday, Antetokounmpo hadn't been at his best during the World Cup. He'd scored just 23 total points over the first two games and fouled out of an overtime loss to Brazil in the fourth quarter earlier this week. Since the tournament draw last spring, though, this game has loomed as a possibility and has long been seen as another chance for Greece to beat the USA while armed with one of the world's best players.
"Giannis is pretty special," Team USA coach Gregg Popovich said. "When they play for their countries, we like to say that [NBA players] become superheroes."
Health could end up being a factor. Team USA only had 10 players against Japan, as Tatum and Marcus Smart (quad) were out. That left Popovich short on guards. He had to play lineups with two centers, Brook Lopez and Mason Plumlee, for stretches.
Washington Wizards lottery pick Rui Hachimura struggled for Japan, scoring just four points in 24 minutes, though he did have a highlight dunk in the third quarter.